Decking & Driveway Lights
Welcome to our huge collection of the highest-quality decking and driveway lights on the market. These stunning lights are very popular and specially designed to light up driveways and deckings to ensure safety when dark out. We have outdoor lighting options that are designed for deck lights, driveway ground lights and driveway wall lights. So no matter what lighting ideas you have for your outdoor space, we have you covered.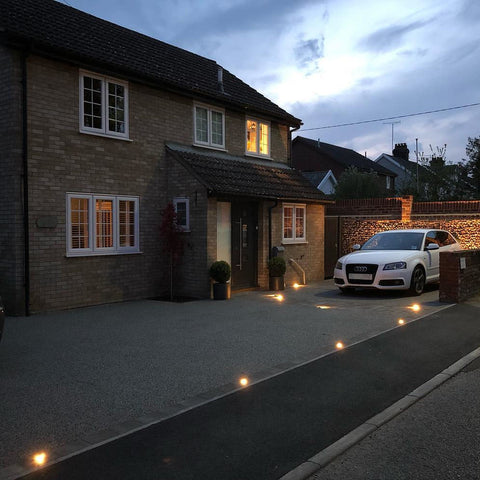 High-Quality LED Ground Lights & LED Wall Lights Designed For Driveways
Decking and driveway lights are used to illuminate the edges of the constructed area to not only reduce trip hazards and show the way to walk but to also create more garden lighting. These styles of lights are commonly used across both residential and commercial properties to add style and intrigue to an otherwise dull area. Whether you want to add colour or simply a neutral warm white or cool white light, our range of outdoor LED lights is perfect.
Most of the lights within the collection are fitted to be recessed into the ground of the decking but the outdoor spotlights within the collection are installed above ground to downlight on a chosen area and the light can be directed into different angles when necessary.
Each of these lights has been designed to seamlessly integrate into decking or driveway and are therefore created with high-quality stainless steel to ensure their durability and robustness. These walkover lights will be used in areas that see a lot of footfall, which is why it is important that they are designed and created with quality in mind.
From as little as £7.99, you can add smart lighting to your property and make access to the home or building easier in the darker winter months. In the summer, these lights will also help to extend the nights allowing guests to move around your property with ease.
A majority of our driveway and decking lights are mains powered and will require an installation from a professional electrician to ensure safety.
Quality LED Indoor & LED Outdoor Lighting Fixtures From CGC Interiors
Here at CGC Interiors, we have over 3000 different lighting products. Each and every one of these products is created using the highest quality materials and to meet the high standards that we set ourselves. Each of our lights uses energy-saving LED light bulbs that are perfect for reducing the energy you use and are also far more long-lasting than other alternative bulbs.
We stock a wide variety of indoor lighting products such as floor lamps, wall lights, table lamps, bathroom lights and more as well as a vast range of outdoor lights such as post lights, spike lights,solar lights, outdoor wall lights, motion sensor lights, security lights, bollard lights and so many more.
Why Choose CGC Interiors
Over 3000 Lighting & Interior Products
With over 3000 high-quality products to choose from, your options truly are endless. So no matter what style or lighting feature you are looking for, we have you covered.
High-Quality Materials
We only use the highest quality materials to design and create all of our lighting and interior products. That is because we strive to meet the highest standards with every product that we sell.
Speedy Delivery
Looking for fast delivery? Look no further, your order will be delivered to your door within 2 working days.
FAQs
The primary kelvin range for outdoor lighting for your home is between 2500k-4000k, which is a warm yellowish colour. Warm colors should be used on architectural elements and cooler colors should be used on trees and plants. Use 2500k-2700k for architectural elements, and 3000k-4000k for trees and plants.
The Kelvin Scale
It is easy to cast a gentle light on decks thanks to recessed, low-level lighting. A contemporary decking area can be enhanced with small LED spots set in white or coloured colours. This is another way of enhancing the look of your deck by adding a little more interest.
You will only be able to hide them if you bury your cable wires underground. Make sure you take into consideration the soil composition and how much cable you need to run when digging. The wire may not need to be dug more than 6 inches deep if the ground is extremely tough.