Wall Lights
Welcome to our stunning collection of modern and contemporary wall lights. We have a huge variety of different wall lights in a huge range of colours, materials, sizes and prices. Whether you are looking for modern indoor wall lights or contemporary outdoor wall lights our phenomenal collection has everything you could possibly need and so much more.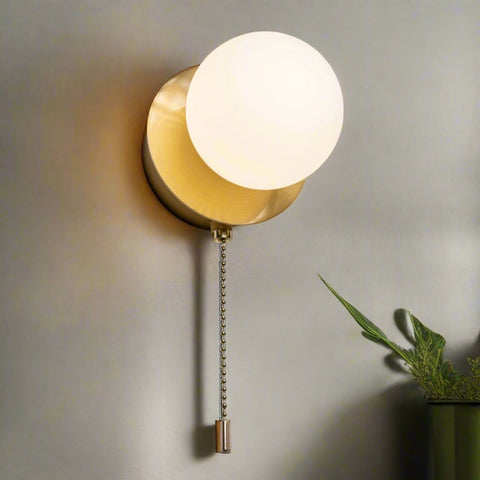 Stylish Wall Lighting Fixtures At CGC Interiors
Our vast collection of stunning and stylish wall lights has over 200 phenomenal lighting fixtures that will be sure to brighten up your space. This enormous collection allows us to have something for everyone's interiors and exteriors. Our huge wall lighting collection also features a range of different lights for different rooms.
While our collection mainly features interior light fixtures, we do also have a range of outdoor lights that can help to shine a light on your outdoor space during the dark. Whether you are looking for an ultra-modern wall light such as our ART LED flush lights, glass wall lights such as our ANT wall lights, brass wall lights such as our Lopez Pearl lamps or bedroom wall lights such as our Acey children's room light, our collection has everything you could need.
As with all our products, our wall lights have been designed and created using only the highest quality materials and to the highest standards. So you can rest assured that your clamps will not only look good but perform amazingly in your interior.
Our huge range not only has a huge amount of products, but it also caters to all budgets. With wall lights from as little as £9.99 to as much as £150.99, no matter your budget, our CGC range has you covered.
Specially Sourced Modern Lighting Fixtures
Each of our lighting fixtures has been specially sourced by professionals with over 25 years of experience. Over the years, our specialists have developed a trained eye for finding only the highest quality and stylish products.
Our phenomenal lighting collection does not stop at our wall lights. We have an enormous range of both indoor and outdoor lighting options. Our indoor lighting collection features table lamps, floor lamps, bathroom lighting, chandeliers and ceiling lights. No matter what lighting fixtures you are looking for you can be sure that our collection here at CGC Interiors has you covered.
Frequently Asked Questions
Yes, LEDs are some of the best lights for any interior space. Not only are they extremely bright but they are also phenomenally long-lasting, energy saving and therefore low-cost. Depending on how often you use the lights, you should very rarely have to replace the bulbs in your wall lights if they are LED.
It very much depends on the wall lights that you choose. If you choose a battery-operated wall light or an outdoor solar wall light then you should be able to complete the installation yourself. If you opt for a wired wall lighting fixture then you would need to have an experienced electrician complete the installation of the wall lights.
Yes. Wall lights are undoubtedly still fashionable. There are so many different styles of wall lights so no matter what you deem fashionable, there is a wall light for you.