Bathroom Ceiling Lights
Welcome to our brilliant collection of phenomenal bathroom ceiling lights here at CGC Interiors. Our extensive range has a huge amount of bathroom lighting fixtures in an array of different styles, sizes, materials and finishes. It does not matter whether you are looking for modern bathroom lighting fixtures, bathroom LED lights, chrome bathroom lights or any other bathroom lights, our range has everything you need to brighten up your bathroom.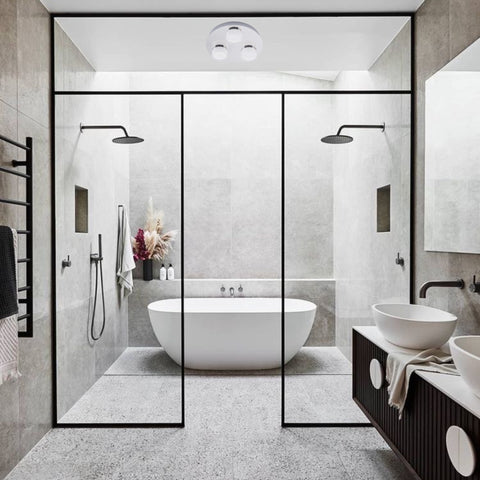 Modern Bathroom Ceiling Lights & Bathroom Lighting Fixtures In UK
We have around 100 different bathroom ceiling lights in our phenomenal range, so you can be sure there is something for everyone. Bathroom lighting fixtures can add a beautiful ambience and shine to your bathroom that can truly transform your interior. We have a huge range of different styles and shapes, so no matter what your interior style is, our collection has you covered.
If you are looking for chrome bathroom lights like our Mary chrome lights, hanging bathroom lights such as our Tayma crystal droplet lights or more abstract and modern bathroom lighting fixtures like our Vicki chrome triple cross lights, look no further. Each of our bathroom lighting fixtures is not strictly for bathrooms, they can be used all around your house and complement any room's interior.
Each of our bathroom ceiling lights has been designed and created using the highest quality materials and finished while adhering to the highest possible standards. We strongly believe that our products should not only look amazing in your interior but also work amazing and therefore last the test of time.
Our collection features lighting fixtures for all budgets. We stock bathroom ceiling lighting fixtures from as little as £8.99 to as much as £199.99. So no matter how big or small your budget is, CGC interiors has you covered.
High-Quality Specially Sourced Home Lighting Fixtures
Our lighting collection stretches much further than just our phenomenal bathroom ceiling lights. We have a huge range of other indoor lighting fixtures as well as a huge range of outdoor lighting options. Whether you are looking for wall lights, floor lamps, table lamps or chandeliers, our extensive collection has everything you could need to brighten up your interior.
A majority of our products have been specially sourced by our team of professionals who have over 25 years of experience in the industry. During these years, our professionals have developed an educated eye for high-quality and stylish products. All of the products designed in-house have been created by our specialist team of designers to the highest quality standards.
Frequently Asked Questions
Yes, they are actually a very good choice for bathrooms. LEDs use less voltage than other bulbs and are therefore more robust when it comes to water and steam. In addition to this, they also operate at much lower temperatures which therefore equates to more safety in your bathroom.
Yes, you can. You just need to make sure that you do not place them in zones that require an IP-rated fitting. If you follow the correct safety procedures then you can place any lighting fixtures in your bathroom and make it as stylish as you desire.