Bulbs
Welcome to our vast collection of the highest-quality light bulbs from CGC Interiors. Light bulbs are an integral part of every home and we have an enormous range of over 20 different bulbs in a range of different colours from white light to warm lights as well as dimmable. So no matter what kind or colour bulb you are looking for, you can be sure that our collection has you covered.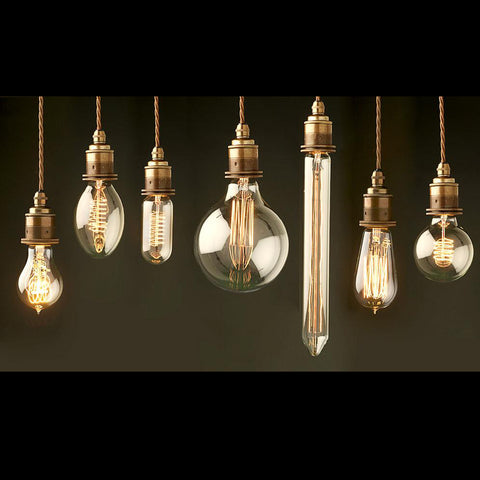 High-Quality LED Light Bulbs In A Variety Of Different Shapes & Wattages
There are around 8 billion individual light bulbs in the world, which is near enough for every human on the planet. While there are so many, it can at times be difficult to make sure that you get the right one. This is because there are so many different factors that go into a lightbulb such as cap types, brightnesses, colours, shapes and types of light bulbs.
Choosing a high-quality light bulb is far more important than you may initially think. If you choose a bulb that is too bright then it can have an impact on a room's atmosphere and if you pick a bulb that is inefficient then it can also have a big impact on the price of lighting up your home and your energy bills.
That is why at CGC Interiors we only stock the highest quality and highly efficient LED light bulbs that have been tried and tested to meet the highest standards. So whether you are looking for a dimmable light such as the CGC Smoked Glass Filament Dimmable bulb, a more decorative bulb such as the CGC Decorative Gold Mesh Bulb or a simple yet effective spotlight bulb such as the CGC Hilda 4000K Bulb, our range has you covered.
What Types Of Light Bulbs Do We Stock?
Our vast collection of high-quality and energy-efficient light bulbs features an array of different styles and different colours of lightbulbs. The different styles of lightbulbs that we stock are:
Dimmable Light Bulbs - Our range features a number of different high-quality dimmable light bulbs perfect for any room in your home. Dimmable light bulbs are extremely popular due to their impressive number of benefits which include energy savings, controllability, longevity and of course their ability to adjust the ambience of a room.
Decorative Lighting Bulbs - We have a range of different stunning decorative light bulbs that are not just designed to light your space but also add a design feature to your room. These stunning bulbs provide a unique aesthetic that seamlessly integrates into many different design styles or interiors.
Filament Light Bulbs - We stock a huge number of extremely beautiful yet simple filament bulbs that are perfect for any home. Filaments are extremely popular for a number of reasons such as low power consumption and therefore very cheap and effective for lowering energy bills.
High-Quality Lighting Fixtures Made With To The Highest Standards
We also have a huge stock of amazing indoor and outdoor light fittings to go along with our huge range of light bulbs. Each and every one of our lighting fixtures has been designed and created with the highest quality materials and the highest standards in mind.
Our indoor range features quality wall lights,bathroom lights,chandeliers, floor lamps and so much more. We also stock an amazing outdoor range that features solar lights, spike lights, security lights, decking lights and more.
Why Choose CGC Interiors
Over 3000 Lighting & Interior Products
At CGC Interiors, we stock over 3000 high-quality lighting fixtures that can help to brighten up your home. So no matter what style of lighting you are looking for, we have you covered.
High-Quality Materials
Each of our interior products has been designed and created using only the highest quality materials. This is so that we can be confident that our customers are always receiving the best possible products.
Speedy Delivery
All of our amazing products come with extremely speedy delivery. All our products will be delivered to your door within 2 working days.
FAQs
LED bulbs are far better than halogen bulbs as they are far more energy efficient. On average, an LED bulb can use as much as 80% less energy than a halogen bulb. By only using LED bulbs you could significantly reduce the amount of energy that you are using and therefore lower your energy bills.
The Kelvin Scale
Yes, you can. You can directly replace a halogen bulb with an LED alternative and see a significant reduction in the amount of energy you use. In addition to using less energy, LED bulbs are also known to last around 25 times longer than halogen bulbs.