Solar Lights
Welcome to our vast collection of the highest-quality outdoor solar lights on the market. Solar lights are an extremely convenient and cost-effective outdoor lighting option, which is why they are so immensely popular. No need to worry about outdoor power sources or extension leads, the sun does all the work for you. We have a huge range of amazing outdoor solar lights that not only light up your garden but also look amazing whilst doing so.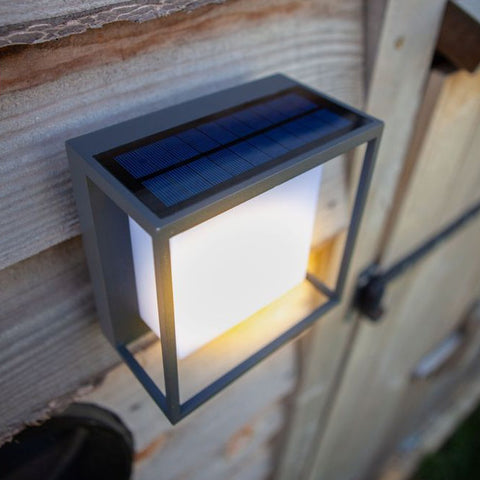 High-Quality Outdoor Solar Light For Your Garden
Power your lights without the need for increased electricity bills from the mains power this winter. Solar lights can be left in your garden all year round and add light to a typically dark area no matter if you prefer a warm light or a cool white light. Wall or ground solar lights are highly durable and can be kept out in all weather conditions to ensure light is available for anyone who is walking around the property.
These outdoor lights are often constructed with LED bulbs to ensure a long usage life whether they are stake lights, fairy lights or spotlights. Solar-powered garden lights are an increasing necessity for every home so whether you are looking for warm white wall lights or motion sensor security lights, CGC Interior have a wide range of solar light available.
Add ambience to your home and outdoor space this winter with solar lights in every size and easy-to-fit structures to attach the light to either your property or the ground.
Get in touch with one of our specialists today to discuss the various styles of solar lights and get advice on which style would suit your requirements best. A delivery charge of £3.99 applies to orders under £100, and a charge of free delivery applies to orders over £100.
Benefits Of Outdoor Solar Lights
Solar lights are up there with the most popular outdoor lights on the market, and it's clear to see why. They truly are an amazing option for outdoor lights that can be utilised in any garden. The benefits of these solar lights are:
Energy Efficient - Solar lighting is classed by many as off-grid lighting. This is because these lights do not require access to the grid in order to work. They are solely powered by solar. This therefore means that when using them you do not contribute any energy usage at all which saves a huge amount of energy.
Low Maintenance - Unlike most other outdoor lights, you never have to worry about turning the lights on and then turning the lights off. All you need to do with these amazing outdoor lights is install them where you want them and then let the solar power do its job.
Eco-Friendly - Solar lights are solely powered by sunlight, which is a hugely eco-friendly source of power. Sunlight is a renewable and abundant source of energy that is incredibly friendly to the environment. Therefore by using these solar lights you not only get an amazing outdoor light feature but you are also being kind to the environment.
Cost Effective - When compared to other outdoor lighting fixtures, solar-powered lights are extremely cost-effective. This is because most other outdoor fixtures require energy to power. This therefore means that energy bills will rise. However, there are zero maintenance costs for these amazing solar-powered lights.
Why Choose CGC Interiors?
Over 3000 Lighting & Interior Products
We stock over 3000 different high-quality lighting and interior products that can help to transform the aesthetic of your home. So no matter what style of lighting or interior feature you could be looking for, we have you covered.
High-Quality Materials
Each of our 3000+ products has been designed to meet the highest standards and use the highest quality materials. This therefore allows us to be proud of every product we sell.
Speedy Delivery
All of our amazing interior and lighting products come with extremely speedy delivery. All our products will be delivered to your door within 2 working days.
Frequently Asked Question
FAQs
In order to operate, solar lights must be exposed to some form of light. Direct sunlight provides the best conditions due to its low diffusion through clouds, which is why solar panels use daylight rather than direct sunlight. In addition to artificial light, incandescent bulbs and LED lamps can also be used to charge solar lights.
The Kelvin Scale
Unless there is a fault with the solar panel, all solar lights will work in winter provided that the solar panel receives enough daylight for the batteries to charge up enough to permit the light to operate. One of the most important aspects of lighting time during winter is where the solar panel is located. In order for the light to be effective, it must be located in a southerly direction without shade during the winter. There will be a significant reduction in the panel's ability to charge when the shade is present.
The majority of solar lights can be left out in the rain without losing their functionality. Solar lights with weatherproof ratings of IP65 can withstand extended periods of rain, although some are not completely waterproof.