Solar Lights
Power your lights without the need for increased electricity bills from the mains power this winter. Solar lights can be left in your garden all year round and add light to a typically dark area no matter if you prefer a warm light or a cool white light. Wall or ground solar lights can be kept out in all weather conditions to ensure light is available for anyone who is walking around the property.
The outdoor lights are often constructed with LED bulbs to ensure a long usage life whether they are stake lights, fairy lights or spotlights.  Solar-powered garden lights are an increasing necessity for every home so whether you are looking for warm white wall lights, or motion sensor security lights, CGC Interior have a wide range of solar light available. 
Add ambience to your home and outdoor space this winter with solar lights in every size and easy-to-fit structures to attach the light to either your property or the ground. Get in touch with one of our specialists today to discuss the various style of solar lights and get advice on which style would suit your requirements best. A delivery charge of £3.99 applies to orders under £100, and a charge of free delivery applies to orders over £100.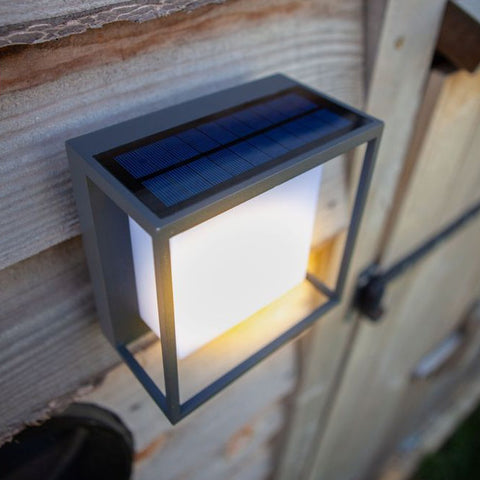 Regular price

Sale price

$39.00 USD

Unit price

per
FAQs
In order to operate, solar lights must be exposed to some form of light. Direct sunlight provides the best conditions due to its low diffusion through clouds, which is why solar panels use daylight rather than direct sunlight. In addition to artificial light, incandescent bulbs and LED lamps can also be used to charge solar lights.
Unless there is a fault with the solar panel, all solar lights will work in winter provided that the solar panel receives enough daylight for the batteries to charge up enough to permit the light to operate. One of the most important aspects of lighting time during winter is where the solar panel is located. In order for the light to be effective, it must be located in a southerly direction without shade during the winter. There will be a significant reduction in the panel's ability to charge when the shade is present.
The majority of solar lights can be left out in the rain without losing their functionality. Solar lights with weatherproof ratings of IP65 can withstand extended periods of rain, although some are not completely waterproof.