Decking & Driveway Lights
Decking and driveway lights are used to illuminate the edges of the constructed area to not only reduce trip hazards but also show the way to walk. These styles of lights are used in both residential and commercial properties to add style and intrigue to an otherwise dull area. Whether you want to add colour, or simply a neutral light, our expert will be able to discuss all options with you.
From as little as £7.99, you can add light to your property and make access to the home or building easier in the darker winter months. In the summer, these lights will also help to extend the nights allowing guests to move around your property with ease. 
Most of the lights within the collection are fitted to be recessed into the ground of the decking but specific lights within the collection are installed above ground to add drama to the chosen area and the light can be directed into different angles when necessary. Get in touch with our experts to discuss your requirements and get advice today.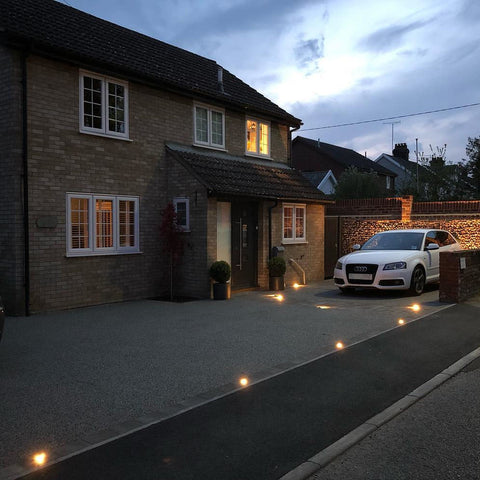 FAQs
The primary kelvin range for outdoor lighting for your home is between 2500k-4000k, which is a warm yellowish colour. Warm colors should be used on architectural elements and cooler colors should be used on trees and plants. Use 2500k-2700k for architectural elements, and 3000k-4000k for trees and plants.
The Kelvin Scale
It is easy to cast a gentle light on decks thanks to recessed, low-level lighting. A contemporary decking area can be enhanced with small LED spots set in white or coloured colours. This is another way of enhancing the look of your deck by adding a little more interest.
You will only be able to hide them if you bury your cable wires underground. Make sure you take into consideration the soil composition and how much cable you need to run when digging. The wire may not need to be dug more than 6 inches deep if the ground is extremely tough.